Asking/Offering Price: $1100
Email Address/Phone Number (optional):
Zip Code: 66061
Pics:
Name: Chuck
Item Description:1994 M-edition roller, no drivetrain. Rust free body, perfect top - clear plastic rear window, HardDog rollbar, factory Torsen LSD, hollow spoke wheels - one of the lightest Miata wheels made. Perfect chassis to drop 1.8 motor in and go, or any choice of V8 swap.
Year: 1994
Make: Mazda
Model: Miata
Mileage: 88,000
Title Status: Clear
Color Exterior/Interior: Montego (Blue/Green)/Tan
Transmission: N/A
Drivetrain:N/A
__________________
Audi S4...quiet, refined, yet still kicks ass.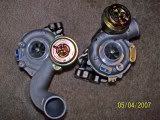 2000 Audi S4 Stage 3 K04 turbos
12.7@117